Very much overdo, but not any less important - it is time to acknowledge our long-time catcher (who wins all the contests!) - Michael Landau!
For other "Humans of Stall Catchers" features, click here.
Michael is the #WorldAlzMonth competition winner, one of the #RedeemLoot competition finalists, CitSciDay Hero, AND the ultimate champion of our CitSciMedBlitz triathlon, not to mention a regular top catcher on the Stall Catchers leaderboars and a hyper-tweeter, sharing out our message on social media !!
I want a T-shirt! I hope I win! #StallCatchers #WorldAlzMonth Mike playing stall catchers #flickr https://t.co/68U6upUbh5

— Michael Landau (@MichelLandau) September 26, 2017
I'm number one, and the blue bar is all the way to the top!https://t.co/hyV639WX8a #StallCatchers #WorldAlzMonth

— Michael Landau (@MichelLandau) September 26, 2017
Me playing stall catchers!https://t.co/dqh1oud1G9 #WorldAlzMonth #StallCathers

— Michael Landau (@MichelLandau) September 26, 2017
And a poet 💜:
⚡️ "A Stall Catcher's Poem" by @MichelLandauhttps://t.co/6xCD8ED5dj

— Michael Landau (@MichelLandau) August 7, 2018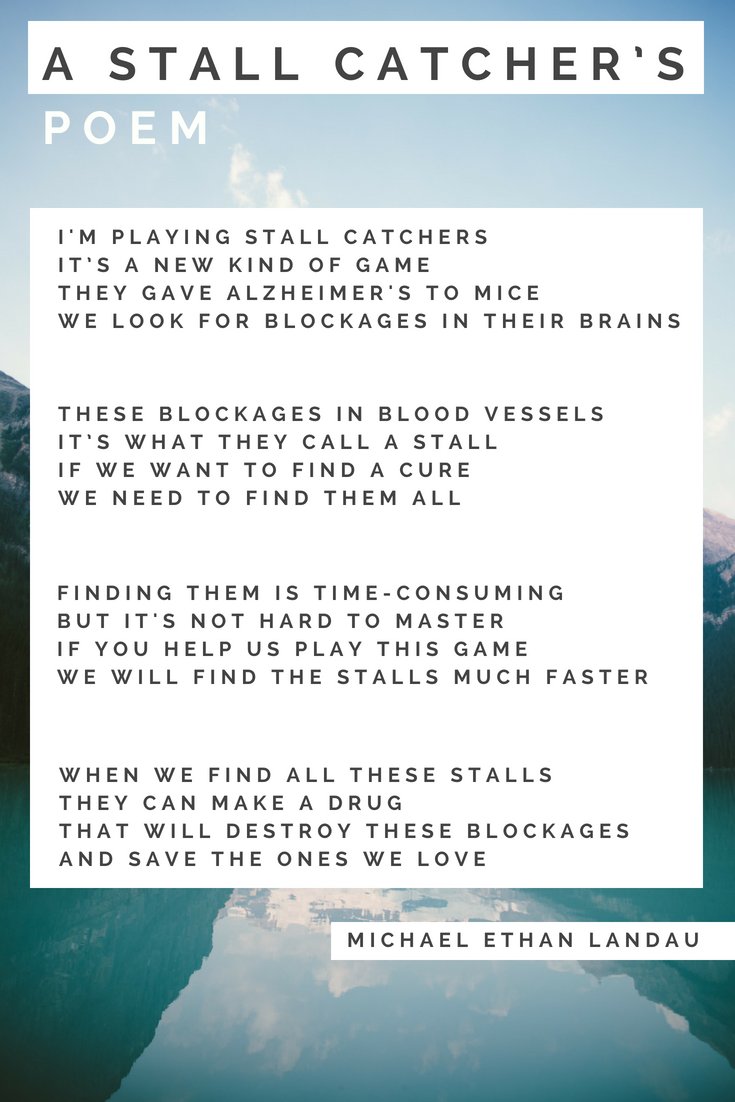 Here's what Michael has told us about himself and why he plays:
I read about Stall Catchers in the Brightfocus Alzheimer's research newsletter. My motivation for playing the game is that when my father died from vascular dementia, and now my mother has Lewy body dementia. They are certainly not exactly the same thing as Alzheimer's but the symptoms, and the end result are the same.
I have a PhD in cognitive psychology from the University of Georgia. I have a physical disability, and I use a power wheelchair to get around. I like to play the game because it makes me feel less powerless as I sit and watch my mother's mind slowly being wiped out.
What I really like about the game is that it makes me feel like I'm participating in research. I always wanted to be able to do research but because of my disability, no one was ever willing to give me a job. Stall Catchers makes me feel like I can actually do something that's worthwhile.
For me, the most frustrating thing about stall catchers is that a lot of the time I don't feel like the explanations of the correct answers are detailed enough, and I don't really understand why my answer is incorrect most of the time. I would like to be able to learn more about the research, so I can understand better why my answers are incorrect.
Thank you, Michael, for sharing your inspiration and your feedback about Stall Catchers 💜 hopefully, your words will inspire many other catchers!!
---
This is a companion discussion topic for the original entry at
https://blog.hcinst.org/catcher-michael-landau/