We've all been amazed by the records achieved during the #CrushALZ competition so far but Day 29 numbers caused even my jaw to drop !!! 😆 Or, to quote Pietro: "Look at this insane team competition frenzy!"
Catchers have been analysing vessels in more than TRIPLE the speed than the days before, and have gone through 41 952 total vessels, 23 663 real!!!
Had to share this:

If my 3yo son says "look at these hills!" means catchers are seriously set on crushing ALZ this weekend ;) #CrushALZ finale coming! #citsci pic.twitter.com/iB0TkgbiMu

— Egle Ramanauskaite ☣ (@Seplute) May 6, 2017
Looks like teams are totally determined to win this & crush Alzheimer's - see below for the full report on who is rocking Stall Catchers the most!
Don't forget to tune in to #CrushALZ LIVE finale TODAY 8pm ET! All the details here: http://bit.ly/CrushALZ-LIVE
Day 29 Start of day: May 4, 8pm ET End of day: May 5, 8pm ET Hours: 24
Teams: 29 Total vessels annotated: 41952 !!! ↑206.89 Real vessels annotated: 23663 !!!↑165.67 -- Proportion of Real vessels: 56.40%
Progress toward research goal: 51.12%
Equivalent lab time: up to 26.6 weeks Who's winning?!
Not only did Middle School STEM win the day this time, they collected almost 10 TIMES the points of the next team !! There's some middle schoolers out there really eager to win! (And I don't blame them 😜)
Who rocked the most of Middle School STEM?
wchri7821 was the most active catcher on Middle School STEM yesterday! wchri7821 seems to have collected over 90% of their overall points in one day!! That's what I call determination to bring victory to your team! 😜 Other catchers also collected impressive amount of points, with aiden'scatchingstalls, Flareonlover, ihawk5019, Adavis5, abrow7488 and belaa all making it to the daily leaderboard on Stall Catchers. Worth highlighting is Flareonlover who also collected most of these points in just one day!!!
Impressive work Middle School STEM! Who can catch up to them now ?!
Meanwhile, Stall Destroyers had to make do with the second place on the daily leaderboard, and their starting to lag behind more and more on the All time! Can they still pick up speed and win the game?!
Doesn't look like CitSciGamers are giving up yet, but you need to push harder to win guys !!!
KMS Genius Hour seem to be quite determined too, as they jumped to 4th place on the daily leaderboard, and climbed one more position in the All time! Good luck in the final stretch team - can you catch up with the top leaders?!
The other teams still holding on to their place in the Top 10 are: EyesOnALZ, EyeWirers, STALLS WILL NOT PASS, Alzheimer's Research UK, Cornell Univ and Citizen Science Plus.
It's the LAST DAY!! Who's going to win?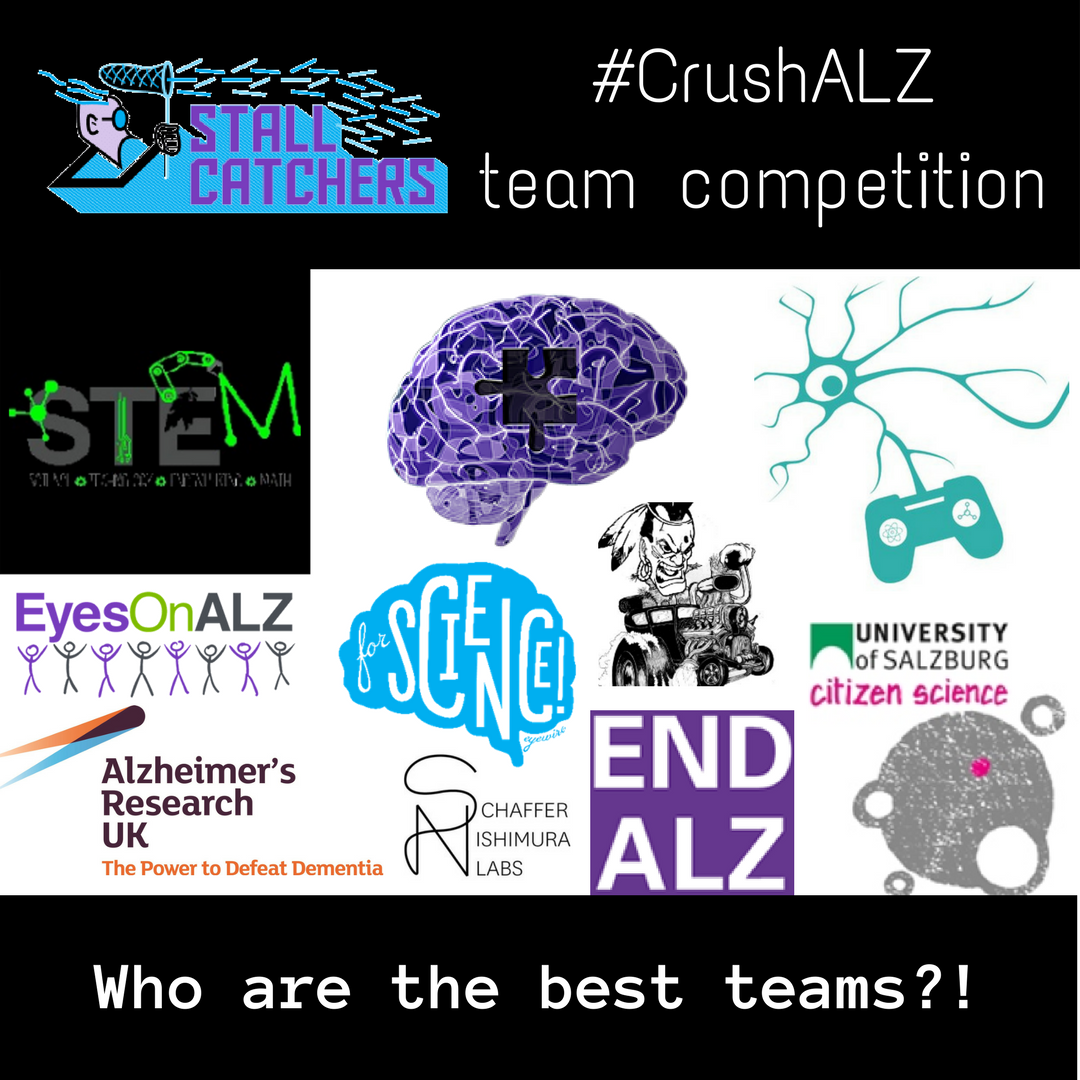 + Don't forget to claim your DOUBLE POINTS!!
Join us for the #CrushALZ LIVE finale TODAY, 8pm (US Eastern Time) & claim double points on the last day of #CrushALZ!
---
This is a companion discussion topic for the original entry at
https://blog.hcinst.org/crushalz-day-twentynine/