Same here. Edge still not working with calibration movies.
Guess I will join the crowd!
Every 3rd or 4th movie was an error tonight. I think I understand about how this all works but I too have been seeing some of the same movies over and over. I just figured they needed more annotations to make their numbers go up.
Last night (6/2/18) the program just froze up and no amount of refreshing the page would help. I logged off, waited 5 minutes, then logged back on and it was still frozen. I couldn't get anything to move, open, report on, flag the movie, just nothing…so I logged off.
Anyway, I will just plod along, doing as many as my patience will allow.
Miss Egle and her team have the hard job of fixing the bugs and making it easy for us catchers. We all really appreciate the hard work you all do.
Carol
Hooboy!!
We received several emails with more error reports as well. Seems like different catchers are experiencing different bugs, however, and most of them we cannot repeat ourselves

So please give us as much info as you can if you experience errors! I posted a general template to help you do so here: http://forumhcinst.org/t/please-use-this-general-template-to-report-all-bugs/405/3
@CarolakaMema can you give us more information on the recent bugs you experienced? See below…
Do you mean the "You have already annotated this movie" message? Are you using Microsoft Edge or a different browser?
Are you sure they are the same movies? That's strange - even though you may see some of the same movies if you already annotated the whole dataset, it sounds like you're seeing a small subset of them over and over again (same as @caprarom) and it really shouldn't happen… Looking into it, among other things.
Extra annotations are certainly useful, but we don't need to gather more than a few from each user, so it's strange if that's what is happening.
Others have reported similar and we're really concerned about this. What browser and device are you on?
Thank you so much for your patience and your dedication

thank you for your support - we need it!

not sure what's happening, but we seem to be in the middle of a bug storm!

Hi All!
We've been holding our breath for more bug reports… but it looks like we might have caught most of them for now. Is everyone able to play? @CarolakaMema @caprarom @gcalkins?
In any case, still looking if we could have overlooked something in the recent software updates - please bear with us if anything else comes up!

Best,
Egle & crew
Hi, Egle. As of 07:40 EDT, the program still is not running properly on the Edge browser. It freezes up every two or three movies, and requires a screen refresh to proceed. I went back to Firefox and it seems to run OK there. Two minor items I'm not sure were mentioned previously, but you probably are aware of:
The bullet indicators to show who is active have not been working on either browser.
The "Played Last" columns on the team screen displays have not updated since May 30th.
Mike C.

OK, thank you @caprarom - that is very helpful. Back to the bug hunt !!
Hi Egle -
I am getting the same freezes as Mike. Below is the image that shows how much is loaded while it is frozen. Still missing the Flowing and Stalled Buttons. Nothing responds.


This is only happening in Microsoft Edge. Sometimes a refresh will work, but other times I need to log out and log back in to get it to load properly.
I noticed that when it hangs, and you do an "Inspect Element" to view the source code, the Preloading Next Video section does not have a new video name loaded. This first copy of code is what it looks like when it hangs.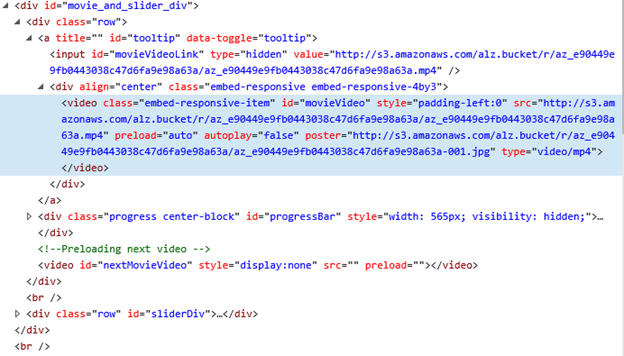 The next section is what it looks like after I have logged out and back in. This is also what you see during normal play with the other browsers.
I hope this helps,
Guy
Hi Egle and catchers,
I don't know why I didn't try Chrome last week when it was suggested. I logged on to my regular page and could only do about 15-20 movies before getting totally bummed. Then I looked up where they suggest Chrome or Firefox (yes, I am a little slow tonight!), decided to give it a try and BAM! It was like old times! Nothing froze, stuck, didn't show up or anything.
I breezed thru my 200 movies and feel great. Although, I did notice that some of the movies were from 2016 and early 2017. I thought we were done with all of those?!?
Anyway, I will be using Chrome until the bugs are worked out. My tip for you is to give it a try, you can always go back to what works for you.
Happy catching,
Carol
Dear All!
I am happy to announce that we finally caught and sorted out the Edge/IE browser bug. You are free to go back to your favorite browsers!

This was an out-of-the-ordinary bug situation, so thank you all so much for your patience and sticking through it with us!
We are boosting our internal quality assurance processes to avoid similar situations after big changes in the future. We had a new crew member join us for that too, Vilma (CapriCorn on Stall Catchers)
AND in case you missed it, here's a more thorough explanation from @pietro about what has been happening with this bug storm:
Hi Egle -
I am still experiencing the situation I reported above. The "Flowing" and "Stalled" buttons are randomly not getting loaded. It does eventually load after a few refreshes. (Sometimes takes 3 or 4 refresh attempts.) As indicated above the Preloading Video "src" is blank when the buttons are not loaded. Not sure if there is a connection between these two observations.
Thanks,
Guy
Hi Guy,
Oh dear - only seeing this now. It works for us, however - have you tried clearing cache on your browser? I am not sure it'll help, but until @ieva responds I have nothing better to offer

How about others? @caprarom @CarolakaMema? Does Edge work for you?
I tried Edge last evening, Egle. It seemed to function normally for me. I'll check again later and pay closer attention, but Edge seemed a slight improvement over Firefox. I'll let you know if I notice anything amiss.
I'm not sure, but now that they are working again the bullet indicators showing the active players, seem to take much longer to clear than previously once a player is inactive. Don't know if that was by design.
Mike C.
Thanks @caprarom! Looking into it, and added the bullet indicator issue to the queue
Well, here I go again.
I did my 200 on Chrome and flew through them so I thought I would give my old browser (internet explorer) a shot. The 11th movie in got stuck for a few seconds, wouldn't let me move the bar, then finished like normal. The 19th movie totally froze up and had to refresh to get next movie. The 25th movie did it again and this time refresh would not work. I logged off and then back on to be able to write this.
I was wondering about the bullets as well. Even when someone is not playing (but has) their bullet is still lit up, even if the leaderboard says they are logged off. Again just wondering.
For now, I will stick with Chrome. There is no sticking, freezing and the movies seen clearer to me.
Hope this helps,
Carol
Thank you all - forensics are continuing …

Dear @CarolakaMema and others,
With the Edge/IE issues - which Windows version are you using?

I am using Windows 10 and Chrome, and all works perfect. Never could work so quickly.
I noticed that the total of the "stalled and flowing" total of the community remains always at "8" for the new stuff… even when i play them a few times more …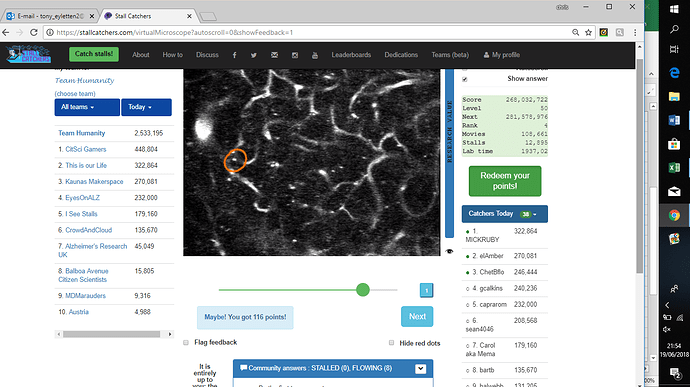 I am using Windows 8 I believe ( hubby does not like windows 10) and Chrome. I second that the program works great!
My Windows 10 and Edge browser are working normally, but I wanted to second Christiane's observation. Many of the current movies whose stalled and flowing tally has reached 8 do not seem to increment when annotated by me. (Thanks, Christiane - I'm glad it's not just me!) This might be by design, however. I'm not sure, but I suspect they'll increment for less active users who've not previously had the chance to annotate them.
Thanks all for additional info, tracking and adding to the list, and continuing solving some remaining problems