Hello all! You might have noticed some stars on some usernames on the chatbox (and the leaderboards), since yesterday: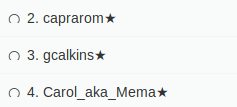 And there's been a "/HQ" addition on mine and @pietro's usernames since last week

Why? Since we've been getting more new users, and they sometimes ask/need to turn to someone more experienced for guidance, we asked a number of catchers to take up the "moderator/experienced catcher who can help" role, which is indicated by the ★ symbol on their usernames.
The "HQ" simply means "headquarters", so people know they are talking to the team if we are putting out special announcements etc etc.
(In other words, with this symbol, we are pretending we know what we're talking about

)
We just thought we'd try this for a while, and see if it's helpful. Currently, stars are reserved for "moderators" here on the chatbox who are experienced users able to help others, have been invited by us and accepted the role. If you'd like to also have this role, please drop us an email at info@eyesonalz.com